Christ Community Church has a wonderful opportunity to improve our property for the benefit of our families, visitors and community for decades to come. Together, we can make this happen.
Our fundraising goal is $96,000 in 96 days to create 96 paved parking spots, a playground area, paved walkways, landscaping, improved fencing, and new signs. Read below for more details.
Want to contribute? Visit our Giving page and select "Pave the Way" from the dropdown menu to give online now. You can also make a pledge to let us know how much you plan to contribute.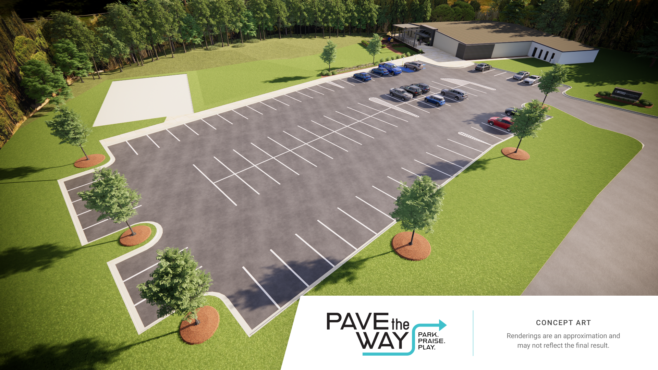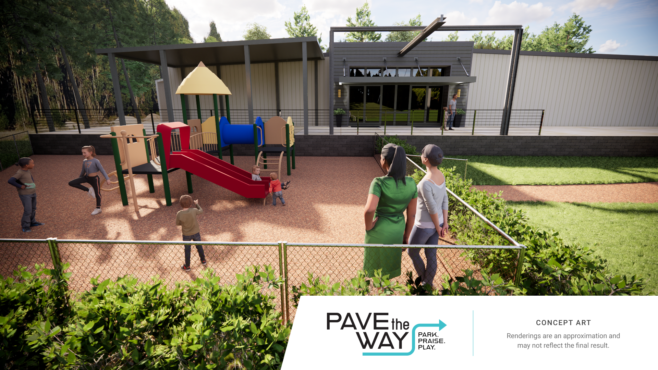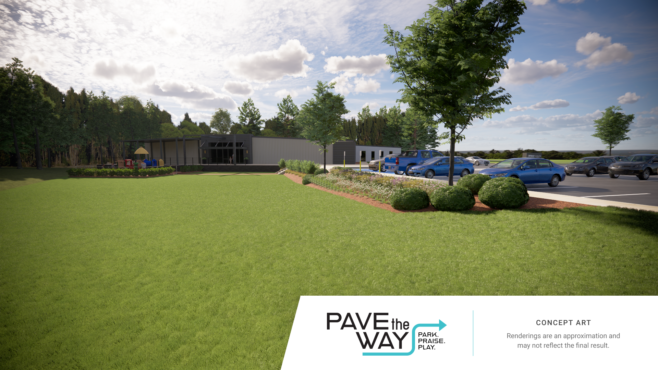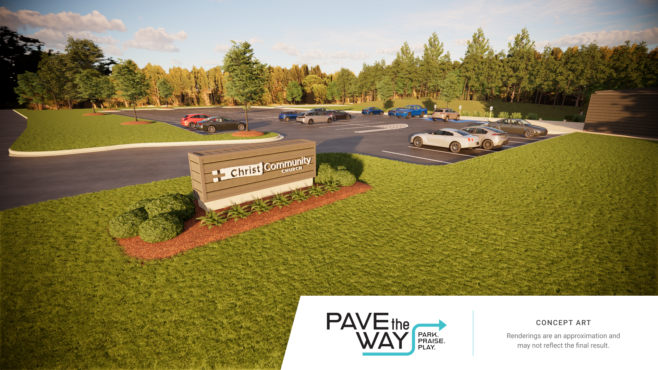 Costs, Timeline & How to Help:
What is our cost?
At today's market costs, the development of these projects could easily exceed $300,000. Thankfully, our church is benefitting from the nearby bridge and highway construction because we have offered the use of our property for the project's contractors. The result is a substantial discount on the development of our projects - we need $96,000 from donations. Additionally, our church will contribute from its building and general funds.
What is our timeline?
We are trusting the Lord for $96,000 donated or pledged by November 1st with all contributions received by the end of the year. The reason is we need signed commitments with payments either in full or in part for some of these major projects soon.
We are in a position to greatly benefit from these deals, but we have to be able to quickly respond.
Our estimated construction dates include:
Parking Lot: This paving should happen in early 2022, possibly in February.
Playground: The equipment may take several months for the supplier to deliver due to manufacturing and shipping delays, so we believe this could be developed in summer 2022.
Greenspace: Depending on the availability of landscaping services and funding, this should happen in the first half of 2022.
Signs: We are proposing to construct a sign along Highway 52 sometime after our parking lot paving is completed in early 2022. Additionally, we plan to install signs on our church building's exterior facing the roadway.
How can you help?
We know this is a tremendous request and an ambitious plan. Christ Community Church has been blessed with a wonderful building and property. We have prayed for ways to improve our church facilities over the years. A paved parking lot has been among our priorities. Every Sunday we see our children playing outside, running and laughing. We loved the outdoor worship we held last April. We believe this proposal is an answer to prayer.
We are asking you to:
Step 1: Imagine these projects.
Step 2: Discuss what these improvements can do for our church.
Step 3: Give to help reach these goals.
If you are able to give now, we have immediate needs that require your financial assistance. Please select "Pave the Way" from the dropdown menu to make sure your gift goes to this fund. If you are unable to donate now, we ask that you pray about pledging by November 1st and making your contributions by December 31st. You can submit your pledge through this online form, email it, or place your pledge card in the offering box at church. Every donation helps to make our church the best it can become to serve the Lord, our families and our community.
Check out more pics for this project!